Raspberry Pi Pico 4x4 Macropad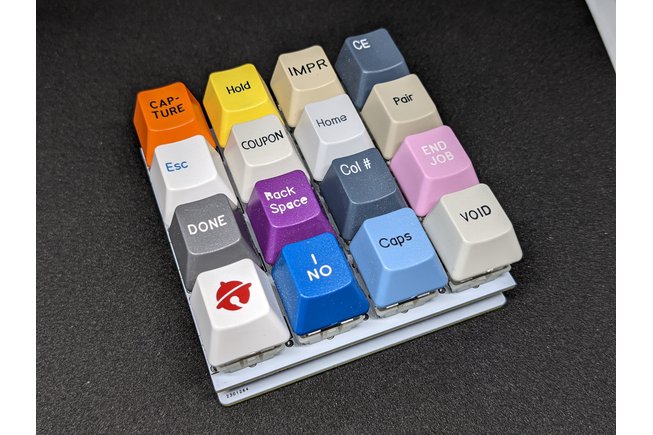 As seen on the Tindie Blog! as well as on the Adafruit Blog
Buy it on Tindie
Description​
This is a 4x4 Keyboard/keypad/macropad kit for you to build a 16 key macropad with a Raspberry Pi Pico. All you need are 16 MX mechanical switches and keycaps and about an hour for assembly.
Entering the Bootloader & flashing CircuitPython​
Enter the bootloader by pressing the reset switch while holding Boot switch pressed
Copy the UF2 file to the RPI drive.
Firmware​
Libraries needed​
You need to download the Adafruit CircuitPython Bundle 7.x from the CircuitPython Libraries page.
Uncompress it and copy the library called adafruit_hid to the lib folder of your macropad.
Code​
Copy the following to code.py
# SPDX-FileCopyrightText: 2021 Pierre Constantineau




# SPDX-License-Identifier: MIT




# Raspberry Pi Pico 4x4 Macropad 




"""




    Code adapted from the following sources:




    MACROPAD Hotkey (https://learn.adafruit.com/macropad-hotkeys/project-code)




    Pico Four Keypad  (https://learn.adafruit.com/pico-four-key-macropad/code-the-four-keypad)




"""




import

 board




import

 keypad




import

 usb_hid




from

 adafruit_hid

.

keyboard 

import

 Keyboard




from

 adafruit_hid

.

keycode 

import

 Keycode




from

 adafruit_hid

.

keyboard_layout_us 

import

 KeyboardLayoutUS





kpd 

=

 Keyboard

(

usb_hid

.

devices

)




keyboard_layout 

=

 KeyboardLayoutUS

(

kpd

)





# define keys for 4x4 v1




keys 

=

 keypad

.

KeyMatrix

(




    row_pins

=

(

board

.

GP0

,

 board

.

GP1

,

 board

.

GP2

,

 board

.

GP3

)

,




    column_pins

=

(

board

.

GP4

,

 board

.

GP5

,

 board

.

GP6

,

 board

.

GP7

)

,




    columns_to_anodes

=

True

,




)






keymap 

=

 

[




    

(

"Select all"

,

 

[

Keycode

.

LEFT_CONTROL

,

 Keycode

.

A

]

)

,




    

(

"Cut"

,

 

[

Keycode

.

LEFT_CONTROL

,

 Keycode

.

X

]

)

,




    

(

"Copy"

,

 

[

Keycode

.

LEFT_CONTROL

,

 Keycode

.

C

]

)

,




    

(

"Paste"

,

 

[

Keycode

.

LEFT_CONTROL

,

 Keycode

.

V

]

)

,




    

(

"Hello World"

,

 

"Hello World"

)

,




    

(

"Cut"

,

 

[

Keycode

.

LEFT_CONTROL

,

 Keycode

.

X

]

)

,




    

(

"Copy"

,

 

[

Keycode

.

LEFT_CONTROL

,

 Keycode

.

C

]

)

,




    

(

"Paste"

,

 

[

Keycode

.

LEFT_CONTROL

,

 Keycode

.

V

]

)

,




    

(

"Select all"

,

 

[

Keycode

.

LEFT_CONTROL

,

 Keycode

.

A

]

)

,




    

(

"Cut"

,

 

[

Keycode

.

LEFT_CONTROL

,

 Keycode

.

X

]

)

,




    

(

"Copy"

,

 

[

Keycode

.

LEFT_CONTROL

,

 Keycode

.

C

]

)

,




    

(

"Paste"

,

 

[

Keycode

.

LEFT_CONTROL

,

 Keycode

.

V

]

)

,




    

(

"Select all"

,

 

[

Keycode

.

LEFT_CONTROL

,

 Keycode

.

A

]

)

,




    

(

"Cut"

,

 

[

Keycode

.

LEFT_CONTROL

,

 Keycode

.

X

]

)

,




    

(

"Copy"

,

 

[

Keycode

.

LEFT_CONTROL

,

 Keycode

.

C

]

)

,




    

(

"Paste"

,

 

[

Keycode

.

LEFT_CONTROL

,

 Keycode

.

V

]

)




]





print

(

"keymap:"

)




for

 key 

in

 keymap

:




    

print

(

"\t"

,

 key

[

0

]

)





while

 

True

:




    key_event 

=

 keys

.

events

.

get

(

)




    

if

 key_event

:

  




        

if

 key_event

.

pressed

:




            

print

(

keymap

[

key_event

.

key_number

]

[

0

]

)




            sequence 

=

 keymap

[

key_event

.

key_number

]

[

1

]




            

for

 item 

in

 sequence

:




                

if

 

isinstance

(

item

,

 

int

)

:




                    

if

 item 

>=

 

0

:




                        kpd

.

press

(

item

)




                    

else

:




                        kpdrelease

(

-

item

)




                

else

:




                    keyboard_layout

.

write

(

item

)




        

else

:




            

# Release any still-pressed modifier keys




            

for

 item 

in

 sequence

:




                

if

 

isinstance

(

item

,

 

int

)

 

and

 item 

>=

 

0

:




                    kpd

.

release

(

item

)



Schematic​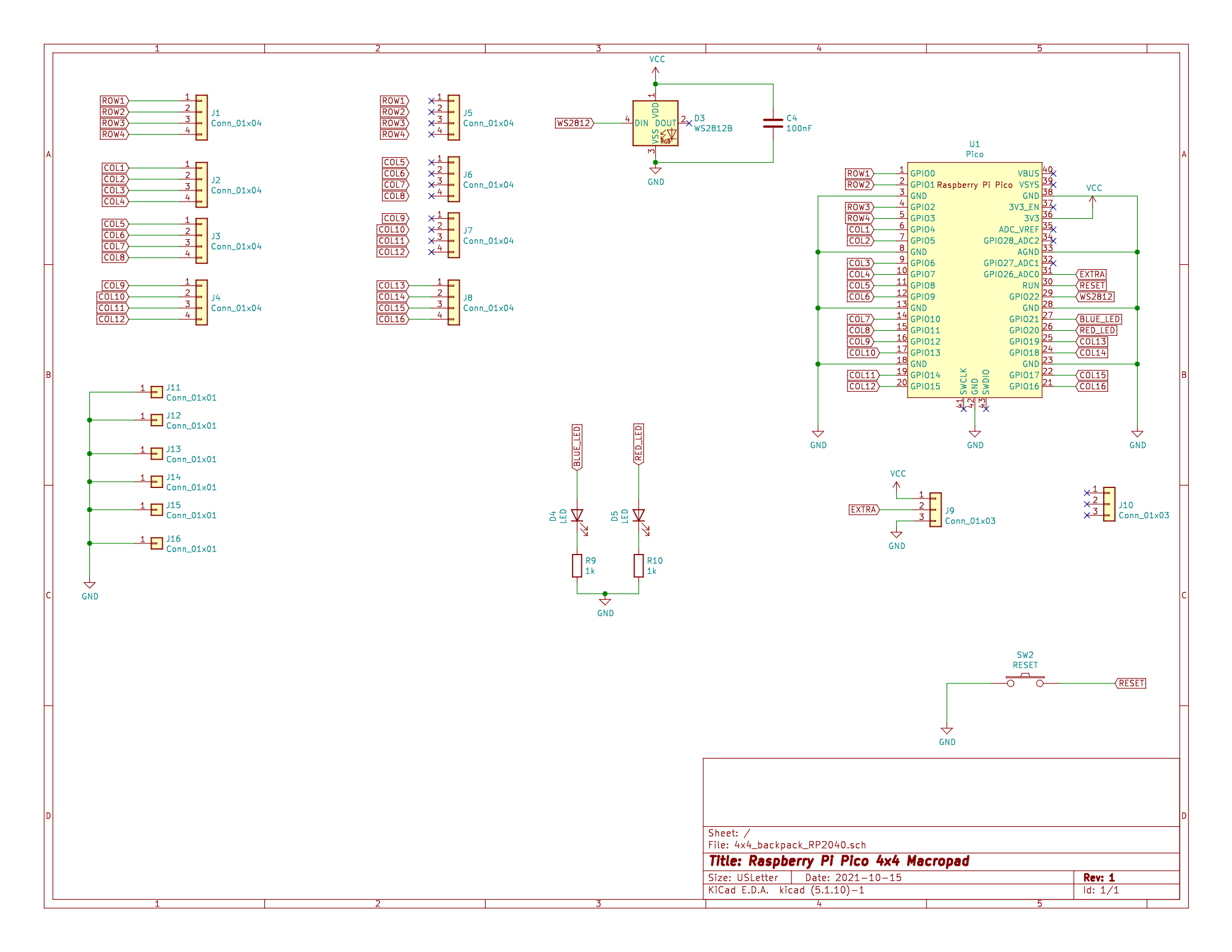 PCB​
Top of PCB​
Bottom of PCB​
Build Instructions - Summarized​
Bottom PCB
Solder RPI Pico on bottom plate
Top PCB
Solder Diodes on Top Plate - make sure that the band on the diode is near the heavier line of on the silkscreen - or the square pad (depends on the top plate)
Join Top/Bottom PCB
Cut the headers and sockets in group of 4.
Join/connect the Header and Socket groups together
Line up the top/bottom PCB so that the sockets are all on the same side (top or bottom - I usually have the pins at the bottom)
make sure that the top plate can be read and has the same orientation as the bottom plate (Need pictures)
Solder the Sockets
Solder the pins
Solder Switches
Disconnect the top/bottom PCB making sure to pull straight not to bend the pins
Install the switches through the PCB. If you have a switch plate (a grid) push the switches through the switch plate as you install them on the PCB
Inspect that all switch pins go through the PCB.
Solder the switches
Reconnect the Top/Bottom PCB
Install keycaps